The Signorelli Company Signs Academy Sports + Outdoors as a Third Anchor for Valley Ranch Town Center
Opening this Fall, Valley Ranch Town Center is Situated Within the 1,400-Acre Master-Planned Community of Valley Ranch
The Signorelli Company, a leader among real estate developers in Texas, has announced that Academy Sports + Outdoors, the premier sports, outdoor and lifestyle retailer, has signed on as the third major anchor store for Valley Ranch Town Center, a new retail district situated inside the master-planned community of Valley Ranch. This 1,400-acre community is ideally located at the intersection of US 59 North and the Grand Parkway, just north of Kingwood.
"We are excited to welcome Academy to Valley Ranch Town Center, a 240-acre district that will encompass approximately 1.5 million square feet of retail," said Danny Signorelli, President and CEO of The Signorelli Company. "With the opening of the Grand Parkway at the entrance to Valley Ranch, leasing and construction are now well underway. In addition to Academy, a Kroger Marketplace® is under construction as well as Sam's Club. The first phase of development is scheduled to open this fall."
Also in negotiations are other big box retailers and smaller shops, a selection of restaurants, a multi-attraction cinema, and a 10,000-seat amphitheater. The retail district will be bordered by a 135-acre park called Town Grove, a natural gathering place for residents and visitors. Texan
Drive Stadium, a state-of-the-art New Caney ISD football stadium that serves as a venue for community-wide special events, opened in 2014 in Town Center.
"Valley Ranch Town Center is at the epicenter of a market that is rapidly emerging in northeast Houston," Signorelli said. "It is a very advantageous location for retail development and leasing. It will also provide an added attraction to homebuyers desiring shopping, dining and entertainment close to home."
New homes in a variety of price ranges starting in the $200s are also available in the new Azalea District of Valley Ranch, along with several new parks and greenspaces throughout the wooded community. Featured homebuilders include Signorelli Homes, First America Homes, and Legend Homes. At final completion, Valley Ranch is planned to include approximately 2,500 homes and townhomes and 1,000 multi-family residences.
Valley Ranch is strategically located within minutes of Bush Intercontinental Airport, Houston's Central Business District, The Galleria/Uptown, The Woodlands, and minutes from ExxonMobil's new 385-acre campus in Spring – making it one of the closest commutes of all of the recently announced master-planned communities.
For more information about Valley Ranch, visit www.valley-ranch.com.
About The Signorelli Company:
For almost two decades, The Signorelli Company, founded by Daniel Signorelli, has developed and built the finest places to live, work, shop and play. Diversified in all aspects of real estate development from single-family and multi-family to retail, commercial and mixed-use projects, The Signorelli Company is recognized as a leader in Texas, and is one of the largest privately held development companies in the state. The Company is headquartered in The Woodlands, TX. For more information, visit www.signorellicompany.com.
About Academy Sports + Outdoors:
Academy Sports + Outdoors is a premier sports, outdoor and lifestyle retailer with a broad assortment of quality hunting, fishing and camping equipment and gear along with sports and leisure products, footwear, apparel, patio sets, barbecue grills and much more. The $4 billion company operates over 200 stores throughout Alabama, Arkansas, Florida, Georgia, Indiana, Kansas, Kentucky, Louisiana, Mississippi, Missouri, North Carolina, Oklahoma, South Carolina, Tennessee and Texas, where the company is based. The Academy Sports + Outdoors philosophy is to deliver an unparalleled shopping experience by providing convenience, offering a broad selection of quality products, delivering exceptional customer service and selling the right stuff at everyday low prices. For more information about Academy Sports + Outdoors, visit academy.com, facebook.com/academy, twitter.com/academy, pinterest.com/academy, youtube.com/academy and instagram.com/academy.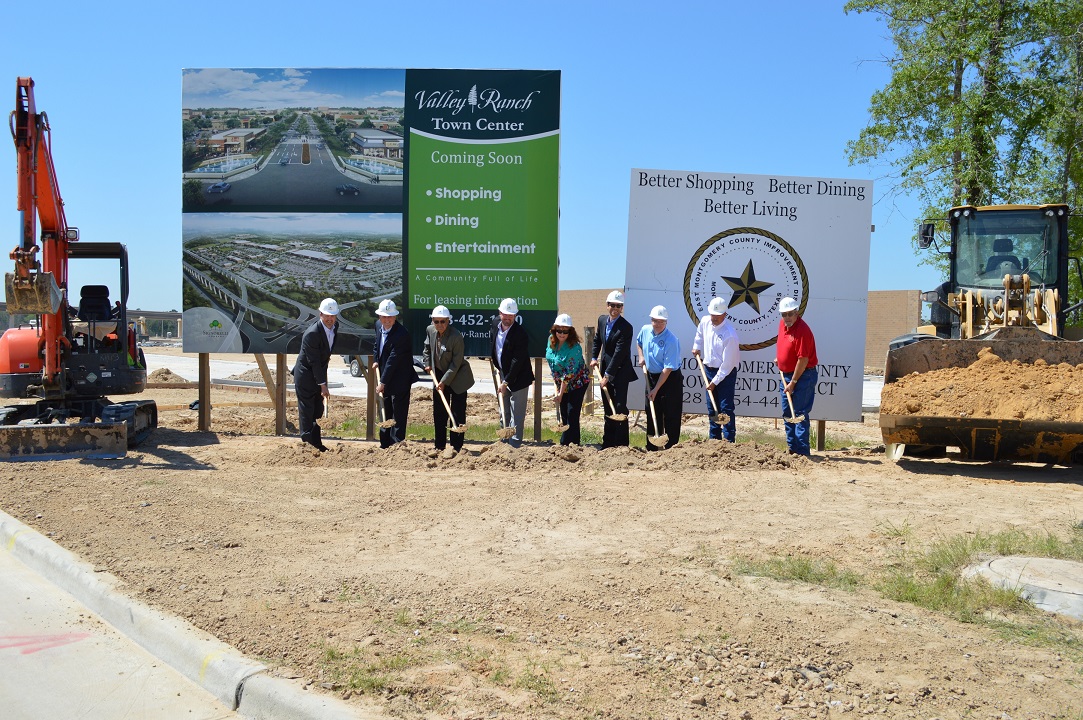 Photo caption (left to right):
Brady Wilkins (Executive Vice President, Commercial Development - The Signorelli Company), Mark McConnell (Arch-Con), EMCID Director Isidor Ybarra (EMCID Director), Danny Signorelli (President/CEO - The Signorelli Company), Brenda Webb (EMCID Chairman), Michael Scheurich (Arch-Con), EMCID President/CEO Frank McCrady (EMCID President/CEO), and Scott Hesson and Martin Zepeda (EMCID Directors).