Cinemark Theatre Coming to Valley Ranch Town Center
All-Recliner, 10-screen theatre is first component in new Entertainment District
THE WOODLANDS, TX – (October 17, 2016) – The Signorelli Company, a leader among real estate developers in Texas, has announced that Cinemark Theatres is planning to begin construction of a new 10-screen theater in the Entertainment District at Valley Ranch Town Center. Valley Ranch Town Center, a development of The Signorelli Company, is a new 240-acre retail district located at the epicenter of growth in the Northeast Houston corridor at the intersection of I-69 and the Grand Parkway (99). It is situated within the thriving 1,400-acre master-planned community of Valley Ranch just north of Kingwood.
The new 10-screen theatre will be Cinemark's 13th location in the Houston area and the first new construction, all-reclining seat theatre for Cinemark in Houston. Every seat in all 10 auditoriums will feature electric reclining seats with adjustable head and foot rests as well as reserved seating. The NextGen™ theatre will offer the newest technology, cutting edge amenities including on-line ticketing, self-serve concessions and expanded food and drink offerings. Cinemark's XD™ auditorium will feature all of the latest enhancements featuring wall-to-wall and floor-to-ceiling screens, a Barco digital projector with 3D capability and an 11.1 surround sound system with custom JBL speakers. The theater is expected to be approximately 40,000 square feet in size and will open in late 2017 or early 2018.
"Cinemark is beyond excited to be a part of the new Entertainment District in Town Center," commented James Meredith, Senior Vice President and Head of Marketing and Communications for Cinemark. "Our theatres in Houston have always been an important part of our company and Valley Ranch is a great addition."
The Entertainment District within Valley Ranch Town Center is planned to include a 10,000-seat amphitheater and a multi-attraction entertainment venue in addition to the Cinemark theatre. The retail district will be bordered by a 135-acre park called Town Grove, a natural gathering place with seven serene lakes and a 'splash pad' water feature. Texan Drive Stadium, a state-of-the-art New Caney ISD football stadium that also serves as a venue for community-wide special events, is another unique attraction in Town Center.
With a diverse collection of more than 85 popular stores, restaurants and entertainment options from both national brands and local entities, Valley Ranch Town Center is poised to become the premier shopping center in the North Houston area. "Last month, Academy Sports + Outdoors was the first of many stores to celebrate its grand opening in Town Center, and a 123,000-square-foot Kroger Marketplace®, Sam's Club, Hobby Lobby and Party City are expected to follow this fall or early next year," said Daniel Signorelli, President and CEO of The Signorelli Company.
"Academy's recent grand opening generated strong traffic and sales and that trend has continued," Signorelli said. "The addition of dozens of specialty retailers and restaurants, from casual eateries to fine dining options, will create the kind of synergy that will make Valley Ranch Town Center the next big thing among Houston-area retail destinations."
"I-69 and the Grand Parkway is the new growth corridor for the Houston area," Signorelli said. "With a population of 190,000 within 15 miles of Valley Ranch Town Center, a location just 15 minutes from Bush Intercontinental Airport, and enhanced mobility via the Grand Parkway, this is the epicenter of growth for the Northeast Houston market."
In addition to major amenities like the Town Center, the community of Valley Ranch features new homes from the $200s to $400s. Parks, lakes, trails, a community clubhouse with a pool and splash area, plus excellent New Caney ISD neighborhood schools add to the appeal of Valley Ranch. The 1,400-acre master-planned community will include approximately 2,500 homes and townhomes and 1,000 multi-family residences upon completion.
Valley Ranch is strategically located within minutes of Bush Intercontinental Airport, Houston's Central Business District, The Galleria/Uptown, The Woodlands, and minutes from ExxonMobil's 385-campus in Spring – making it one of the closest commutes of all of the recently announced master-planned communities.
For more information about Valley Ranch, visit www.valley-ranch.com. For a list of stores, restaurants and entertainment venues coming to Valley Ranch Town Center, and latest news, visit the new website at www.shopvrtc.com.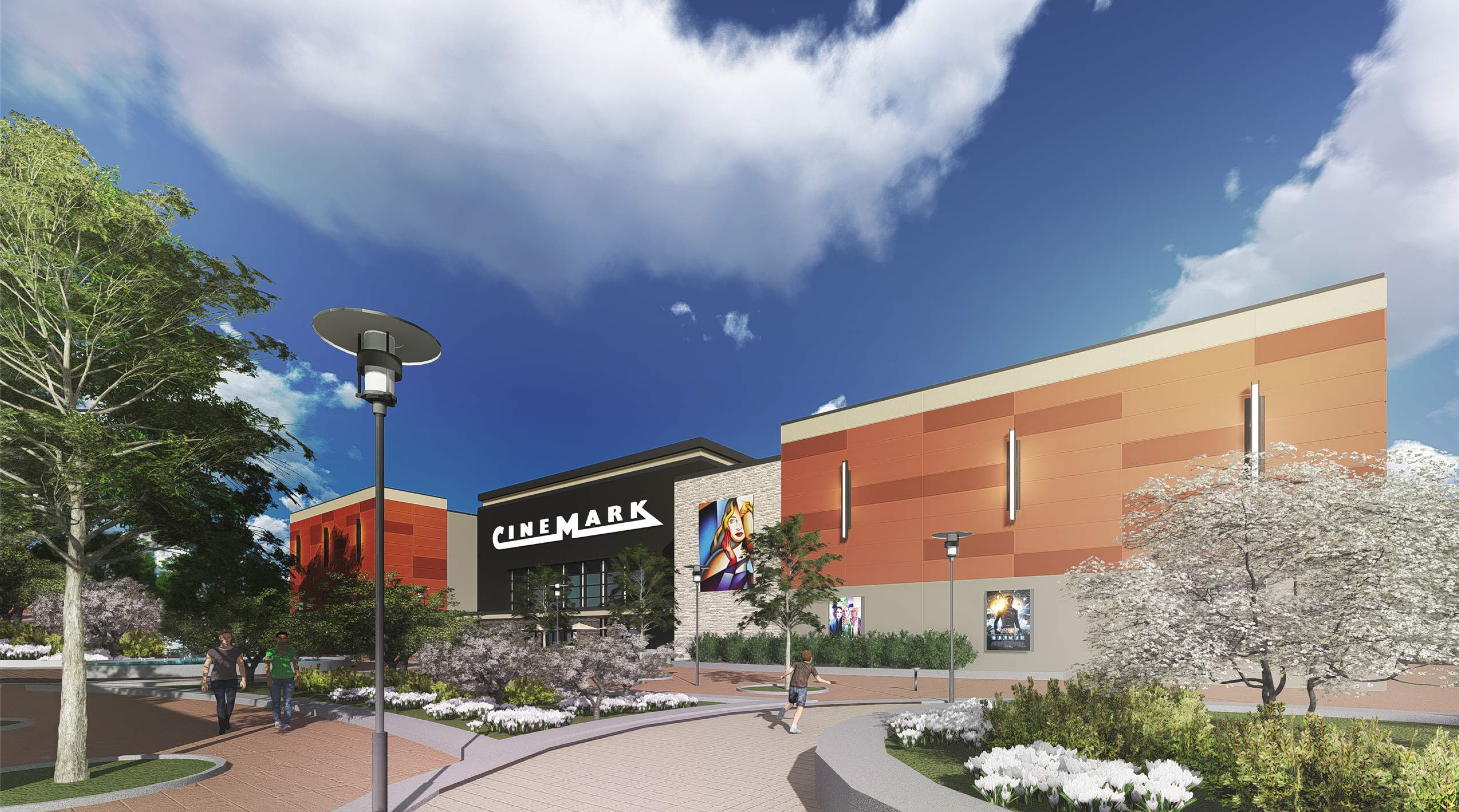 An artist's rendering of the new 10-screen, all-recliner Cinemark Theatre coming to Valley Ranch Town Center. The new theatre is the first component in the planned Entertainment District, which will also feature a 10,000-seat amphitheater and a multi-attraction game venue. Cinemark is scheduled to open the new theatre in late 2017 or early 2018.
About Cinemark:
Cinemark is a leading domestic and international motion picture exhibitor, operating 522 theatres with 5,888 screens in 41 U.S. states, Brazil, Argentina, and 13 other Latin American countries as of June 30, 2016. For more information, go to www.investors.cinemark.com.