First Tenant to Open in Valley Ranch Town Center
Deemed as the largest retail projects under construction in the Houston area, construction continues to progress on Valley Ranch Town Center and Valley Ranch residential projects.
The 1,400-acre master planned community features over 1.5 million square feet. In comparison, The Woodlands Mall encompasses 1.3 million square feet and The Galleria, a total of 2 million square feet of development, which makes the Valley Ranch Town Center and the Valley Ranch community quite large.
"This is a culmination of 15 years of grind; not just from me and my team, but from a lot of people in the East Montgomery County community," said Danny Signorelli, President/CEO of The Signorelli Co., the developer of Valley Ranch Town Center. "In 2006, we fought a battle to change the liquor laws, since the East Montgomery County area was dry at that time, we didn't have a chance to bring in new restaurants and developments. This is a great place for business; you just had to drill down deep enough to figure out what was missing in this area."
Signorelli shared an update on the construction during the Greater East Montgomery County Chamber of Commerce luncheon Sept. 7.
According to Signorelli, the vision for the Valley Ranch Town Center and the development as a whole, was looking at the big picture of the East Montgomery County area and the vision of the community leadership to stay ahead of growth and provide top-notch facilities for residents.
In the first stages of the Valley Ranch residential development plans, the estimate was 80-85 percent residential, which has now changed to an estimated 50 percent residential. This change was because Signorelli realized how short the area was in commercial development with lacking of retail, restaurants, healthcare, business and entertainment options.
"The Medical District has grown more than we expected from 125 to 150 acres which is four years in the making," Signorelli said. "We are working to have a major quality of life health development unique to the Houston area where the focus is not only an acute care hospital but also including half-a-million square feet in MOB (medical office buildings) with any specialist you can think of."
On the residential side, the company recently added two new home builders — Beazer Homes and Horizon Homes — for a total of five builders breaking ground within the next 30 days. Signorelli expects for the community to be sold out in the next two to three years.
The Signorelli Co. is also working on a multi-family development in the northwest corner Valley Ranch Town Center, which is expected to feature 500-units of garden-style properties.
"In the Entertainment District we are working to have an outdoor amphitheater that will seat approximately 10,000 people, which is still in the planning and conceptual phases. It was also include a state-of-the-art Cinemark Theatre, a splash pad, fitness facility, entertainment center and planned hotels. " Signorelli said.
Everything from a Kroger Marketplace to an Academy Sports + Outdoors, Hobby Lobby, Chick-fil-A, Chili's, Sam's Club, Party City, El Pollo Loco, Freebirds, Sports Clips, Supercuts, GNC, Subway, Sally Beauty, Nails of America, T. Jin's Asian Café, First Choice Emergency Room, Bank of America, Taco Bell, and Whataburger are slated to open in the center this fall and in the beginning of 2017.
The Academy Sports + Outdoors will be the first business to open in the Valley Ranch Town Center and will have a soft opening on Sept. 23th and will officially open Sept. 30 with a grand opening celebration.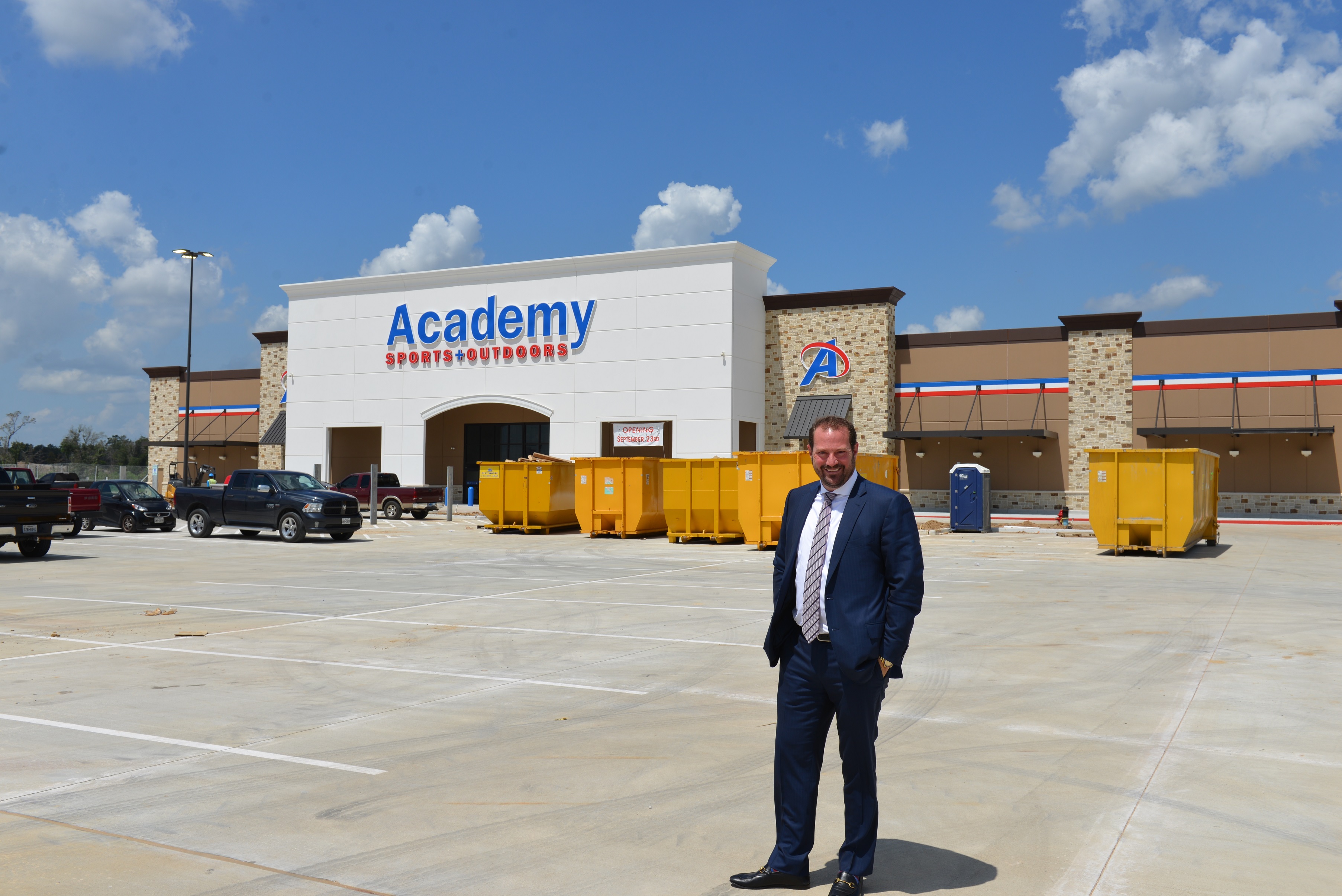 Danny Signorelli, President/CEO of The Signorelli Company in front of Academy Sports + Outdoors in Valley Ranch Town Center.

In the Commerce District there will be a full-service hotel, conference center and Class-A office space, with an initial focus on large corporate relocation.
"East Montgomery County is finally in the spotlight," Signorelli said. "Within 15 miles of Valley Ranch, there is a population of 190,000, an average household income of $88,000 and only 15 minutes to the 4th largest airport in the Country (IAH). With the increased mobility in the area and the opening of the Grand Parkway, this is the epicenter of the market and future growth."
"As we progress, I expect for us to see many more residential neighborhoods pop up around us to cover the population growth all over the Houston area. We are very proud to be creating a sense of place for East Montgomery County and for our residents."
For more information, visit: http://www.shopvrtc.com/