Valley Ranch Town Center – A True Town Center in a Community Setting
With an ideal location at the newly-created intersection of the Grand Parkway and I-69 (US 59 North), Valley Ranch Town Center is rapidly taking center stage in the northeast Houston corridor just north of Kingwood. Situated within the thriving 1,400-acre master-planned community of Valley Ranch, the new 240-acre Valley Ranch Town Center is the largest retail project under construction in the Houston area at over 1.5 million square feet.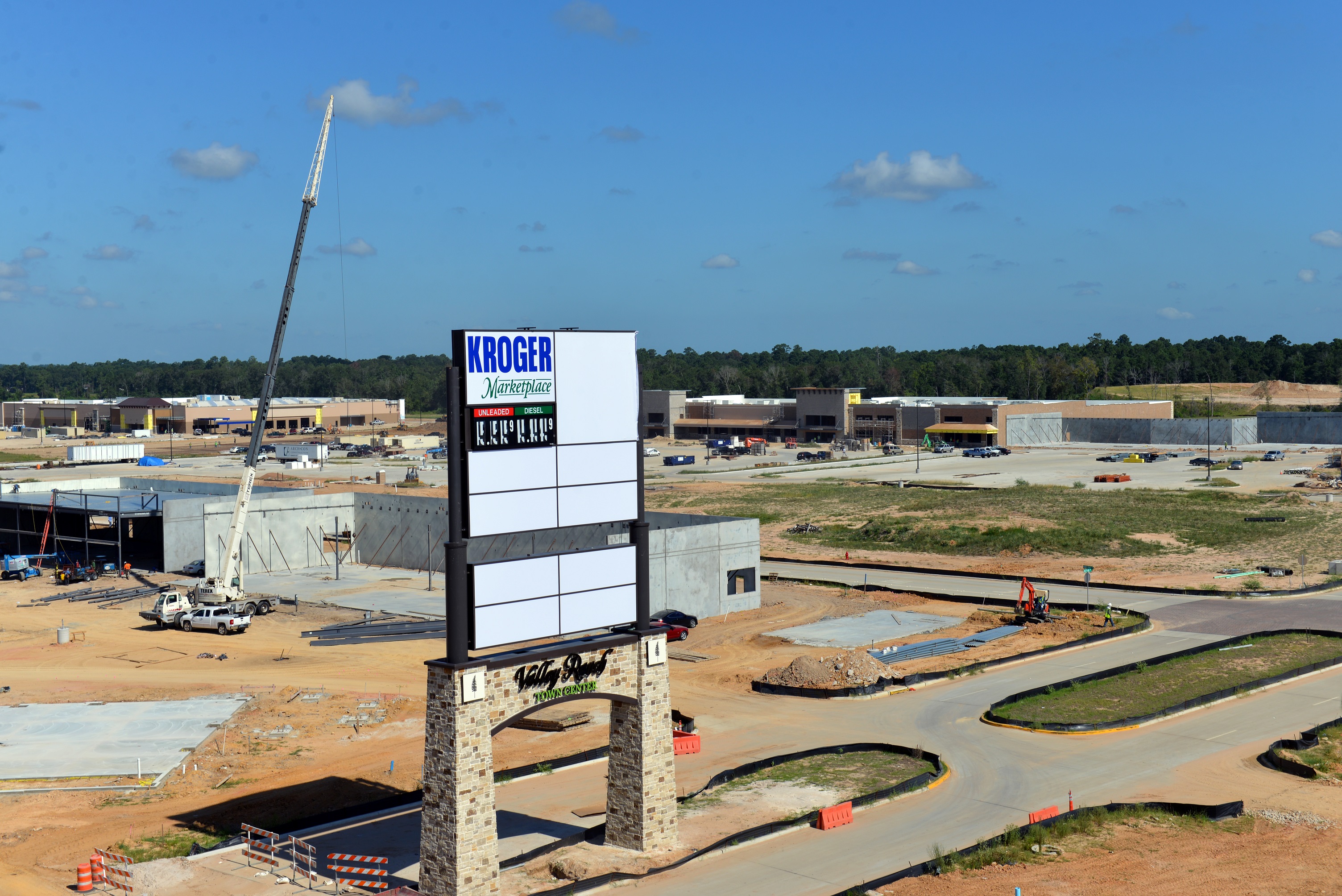 Encompassing all the components of a true town center with over 1 million square feet of retail and more than 500,000 square feet of mixed-use development, Valley Ranch Town Center is planned to include an entertainment district with a state-of-the-art Cinemark Theatre, multi-family residences, and community attractions including the massive 8,500-seat Texas Drive Stadium, 400-seat New Caney ISD Aquatic Center, Little League baseball complex and family activities at Ed Rinehart Park, and a 10,000-seat amphitheater. Bordering the hub of Valley Ranch Town Center is the 135-acre Town Grove Park, providing serene greenspace and pristine lakes for events and gatherings.
Valley Ranch Town Center will soon be a destination for residents and visitors, with entertainment, shopping, dining, parks and open space for community events. The project is so multi-faceted and dynamic that there isn't a single industry name that describes the grand project, such as the term "power center" used for smaller retail developments. A project of The Signorelli Company, recognized as one of the leading real estate developers in Texas and Oklahoma, the 240-acre center defies description, according to President and CEO Daniel Signorelli. "We are focused on bringing the highest quality and variety of retailers to Valley Ranch Town Center. But we are also creating a 'downtown destination' for a vibrant corridor that lacks these high quality components that other Interstate corridors enjoy."
Phase one is now under construction with an impressive roster of stores and restaurants featuring anchors Kroger Marketplace®, Sam's Club, Academy Sports + Outdoors and Hobby Lobby, plus dozens of other popular stores and restaurants. The first phase of 505,000 square feet of
retail is ahead of schedule and projected to open in a few months. The second phase is expected to open in the spring of 2017, adding another 275,000 square feet, and the final phase is projected to be delivered by the end of 2017.
Along with a wide variety of tenants, Valley Ranch Town Center will feature new prototypes for several stores including curbside online order pickup for the 123,000-square-foot Kroger Marketplace® and Sam's Club.
Northeast Houston is the Next Big Frontier
"The size and scope of Valley Ranch Town Center is due to existing demand attributed to a void of convenient services and quality development," Signorelli said. "Northeast Houston development opportunities have been ignored for many years while development in other Houston suburbs stretched commuters well beyond an hour of downtown and Bush Intercontinental Airport (IAH).
"The biggest surprise to tenants today seems to be the high population and excellent household incomes found in our trade area," Signorelli continued. "They are excited to have a store underway, less than a half-hour from downtown and not having to worry about cannibalizing an existing store…it's a true new market and arguably the only one of its kind in Houston."
Valley Ranch Town Center is a 15-minute commute to IAH and 25 minutes to downtown Houston, and boasts an average household income of $88,237 within a 15-minute drive to Valley Ranch. "The current population in the trade area of 195,424 is set to boom for years to come, thanks to available land and completion of major mobility projects including the recent opening of the Grand Parkway at I-69.
"Valley Ranch is clearly at the epicenter of mobility, connectivity, significant population and future growth for this I-69 corridor," Signorelli said. "This is the next big frontier where strong existing population is being met by significant development. With major communities like The Woodlands and Kingwood virtually completed, developers are looking for replacement properties along this corridor. And the short-term and long-term rooftop growth bodes well for our project."
Other development like 4,000-acre Generation Park bringing major business to the Northeast Quadrant is just the tip of the iceberg. According to a study conducted by CDS Market Research, projections call for the Valley Ranch trade area to add 2,560 housing units per year between 2015 and 2020 and to have more than doubled its population and households by 2030. The 10-minute commute from Valley Ranch to the ExxonMobil campus in Spring, and other new business centers in The Woodlands/Spring area, are also expected to positively impact growth in northeast Houston.
Eric Walker, Partner with Capital Retail Properties and the leasing agent for Valley Ranch Town Center, says that the numbers tell it all. "We have already reached critical mass and have more big name anchor stores for Valley Ranch Town Center than anywhere else in the Houston area.
Not only are prospective retailers impressed by the tenant lineup, they are also excited about the growth and promise of this entire area."
Pent-Up Demand for Shopping, Services
According to Signorelli, there was a paradigm change when an archaic law prohibiting the sale of alcohol was repealed in 2007. "Although the population in areas of northeast Houston was growing, retailers and restaurants stayed away because they could not sell alcohol. When that false economic barrier was removed, retailers immediately saw a new market to open stores and not have to wait on population growth to hit great sales numbers.
"Large retail centers in the greater Kingwood area are now aging," Signorelli says. "People want something new, in a community environment, where they feel safe to shop, explore, and enjoy a meal and fun activities with their families. That's exactly what we are providing in Valley Ranch Town Center." For more information on Valley Ranch Town Center, visit www.ValleyRanchTownCenter.com.